I was introduced to golf by Texas A&M Golf Coach and 1956 SW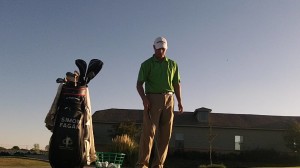 conference champion Coach Joe Fagan whose most notable students include 1964 PGA Championship winner Bobby Nichols and Billy Martindale. I bring all of my knowledge and passion to every lesson and get no greater reward than helping a student play better and have more fun than the day before.
I began teaching full time in 2002 when I joined Hank Haney Golf in Austin, Texas. I relocated to Hank Haney headquarters in Mckinney, Texas in 2004. I was a staff instructor for private 2 and 3 day golf schools, corporate outings and seminars, and held the position of Lead Instructor at Hank Haney Academy at Westridge in Mckinney, Texas for five years.
I founded Onplane Golf Academy in 2010 and soon found a home at Los Rios in Plano, Texas. I am currently the Director of Instruction for the golf course and own and operate Simon Fagan Golf School. I developed the Next Level coaching model that brings my playing career and coaching experience together to help all players learn to prioritize so that they can get the most out of their practice. The year round school focuses on long term development for individual and group coaching programs designed for all skill levels.
For more information or to inquire about availability contact Simon.
Contact us: info@simonfagangolf.com
Phone: 469.328.5958