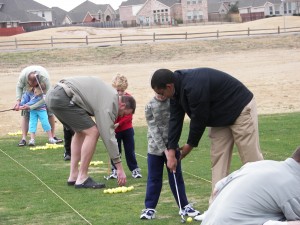 Choosing a golf instructor for lessons can be a critical decision to determine the pace and or overall success of your golf experience and career. I have taken golf lessons from several instructors over the years and observed hundreds of hours of lessons from some of the best and I hate to say it, but probably some of the worst instructors. The former includes parents or friends as well as PGA professionals. Unfortunately so does the latter. This can make it very difficult to find the right instructor for you.
Most large markets will not only have many different options for golf schools but also have pros at your country club and at the daily fee public and semi private courses and practice facilities. Of course knowledge of the golf swing is a large factor in whether or not these instructors can help you, but in my opinion it is not the biggest one.
I have learned something from every lesson I have observed and every lesson I have taught. I believe a more important consideration is, can I communicate with my choice of teacher and do they understand my goals. I have seen very good athletes struggle with minor changes and I have also seen the people that did not appear to be as athletically inclined take to a new swing or concept like a fish to water. I venture to say this is very much to do with interpersonal dynamics and communication skills. Golf is a difficult game, but it is a game. So I believe having fun should be a part of the process of improvement.
I enjoy teaching players of all skill levels and have had the pleasure of teaching some really talented golfers over the last 10 years. Teaching beginner classes to University of Texas students and Junior Camps at Hank Haney Golf was an invaluable way to develop my skills as a communicator and learn to use non golf specific terms for those that may not have a subscription to a golf publication or watch tournament golf on Sundays. Helping these golfers and juniors with aspirations to win tournaments is very rewarding. I have also helped players win their club championships and achieve tournament success as well as collegiate scholarships. Please contact me for a custom lesson plan specific to your goals.
For free newsletter, special offers and tips visit: http://www.simonfagangolf.com